Through everything that's happened this last month, the constant that I've heard from people is the need to take care of myself as well as my mother. I've been trying my best, but self care can be a broad, vague undertaking. What does self care mean? Is it as simple as making sure you eat and sleep? For me, my self care has consisted of binge watching Netflix when I'm physically drained, or cleaning my apartment, which is still a post-wedding disaster. Neither of those are helping me feel cared for, in fact my self care has mostly meant ignoring how I've been feeling through all of this.
That's beginning to drain me.
I work really well in crisis. My mother broke her wrist a few years ago when we were in Ireland, and I didn't lose my cool and got her help. I can go and go through stress, because it tends to make me work harder and be more focused. I have an inner strength I've discovered that I draw on in crisis, and I've been using it nonstop since we got her diagnosis April 13th.
It was that strength I had when sitting in the surgery waiting room for over six hours with my father, watching a board that only rarely updated itself on how her surgery was progressing. The strength I had when I was sitting awake and exhausted several nights in a row in the recliner beside her as she slept, because my dad and I couldn't stand to leave her alone. The strength I had to advocate for her when the nurses were rushing her recovery, pushing her beyond her limits and she couldn't speak up for herself. The strength I've had in giving up a job I loved so that my schedule was free to take care of her, while also planning my wedding from her hospital room as she was finally able to eat for the first time in weeks. The strength I had while watching her struggle to walk around my wedding two weeks later as everyone told me again and again, "Well she looks fine, so she must be recovered," until I wanted to scream at them all.
That strength is finally beginning to wane.
Watching her struggle with what her life is going to be like for the next year, what she's already had to go through in just barely over a month…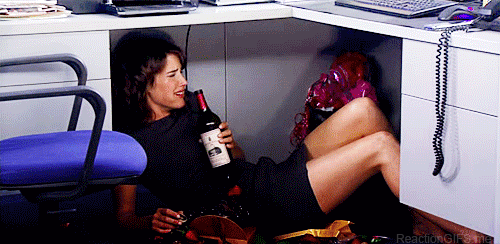 I'm spent. And I can't be. I think the worst part is knowing that I can't burn out now, I can't give up, because she and my dad need me to continue to draw on that strength I amazed us all with during these last few weeks. But four weeks later, I feel like I've used all of it up.
I can't watch her be in pain anymore. I can't think about how I won't be here through all of her treatments like I'd hoped, because I'm moving in October to Oklahoma with my husband. I can't keep telling people that I'm okay, and that she's doing great, because I'm not, and she's not. No, the cancer is not going to kill her. No, it didn't spread beyond what organs they removed in surgery. Yes, she will get through this and live to visit her first grandchild (born three weeks ago) and see my family grow (whenever we decide to start one).
But you know what? That doesn't make any of this suck less. And lately, all I've needed was some self care. For me, at this moment, this means finally allowing myself to feel it, finally allowing myself to be spent and drained and depressed and overwhelmed and definitely completely not okay with any of this. For now, self care is allowing myself the freedom to give in to the impulse that's been gripping me recently, the impulse to collapse right where I am and sob until my tears run dry.
And once I did that, I picked myself up, dried my cheeks, and felt a bit of strength return.
Self care is about more than making sure you eat and sleep enough while caring for someone else. It also means allowing yourself weak moments, so that you can continue having strong ones.